Thunderbird West is self-suspending all gatherings (including Game Night and Meditation) until May 3, in response to the latest guidelines from the CDC and AZDHS. That doesn't mean that we can't worship together. There are many options and opportunities to gather together virtually through online experiences.
Consider the following ideas to invite or remain engaged in worship and spiritual formation at any time. Here are some online resources for worship, spiritual practices, and videos:
https://www.cofchrist.org/resources?tags=Witness%20the%20Word#/
https://www.cofchrist.org/resources?tags=Personal%20Spiritual%20Practices#/
https://www.centreplace.ca/
https://www.projectzionpodcast.org/
https://bcmissioncenter.wordpress.com/our-congregations/effingham-il/ – live Facebook. stream from the Effingham IL congregation.
Lastly, but so very importantly, help to support the value of continued generosity by sharing the following link. It is a "How To" video for eTithing. It walks contributors through the steps of making contributions via eTithing: https://youtu.be/vOaogMcekbw.
We will continue to look for more ways to stay engaged in the Mission of Christ in this time of sickness and fear and keep you updated on the situation.
From Sara Tubbesing, AZMC president: "In this Lenten season and unprecedented time, our wilderness experience brings us opportunities to contemplate so much more than abstaining from a particular behavior. This year, we are challenged to live into a different community experience. While we are admonished NOT to risk sharing the virus, we are invited to risk new engagement and connection. Be brave, be creative, be comforted that we are all walking this journey together."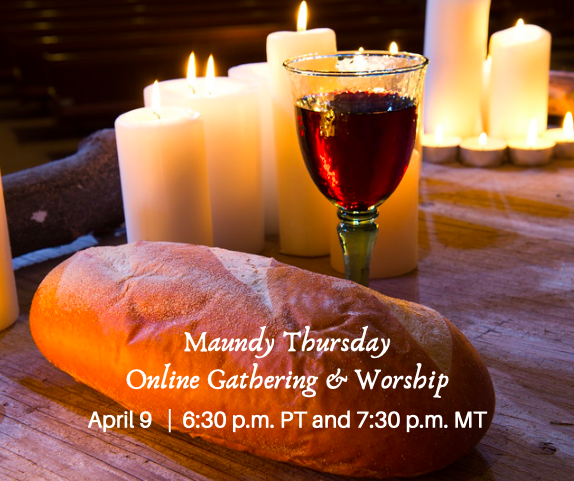 Western Field Maundy Thursday Service
Join us for an evening of sharing and encounter as we reflect on the meaning of Holy Thursday. Ministry will be provided from across the Western Field as we reflect on the significance of the sacred meal shared then and now as we seek to embody Christ's love in challenging times. In preparation please read Mark 14:17-25 and John chapters 13-17 often called Jesus's farewell discourse.
Please see the Zoom information below. You can join either by computer or phone. Please reach out to your pastor or mission center president if you need help with how to join the online experience.
In Christ's Peace,
Ron
Joining Our Worship Via Zoom
You can join either by phone or computer using Zoom. On April 9, 2020, at 6:30 PT/7:30 MT, please click the link below if you intend to join on your computer. Alternatively, you can call into our gathering on your phone using the number and meeting ID below. If you need additional help using Zoom, please reach out to your local Mission Center President or pastor. We can't wait for you to join us for this special service and time of gathering!
Zoom URL:
https://zoom.us/j/355481096
Call in Using Your Phone:
+1 669 900 6833
Meeting ID: 355 481 096
From Steve Veazey, President – View his prayer in this time of global sickness and fear: https://youtu.be/leSiER2SSM4, or read it here: https://tinyurl.com/Veazey-Prayer